It was way back at the start of the soggy British Summertime (JUNE) that I first heard about
YEASAYER
. I was lucky enough to receive an email from their record label
WE ARE FREE
(an off-shoot of the fantastic
MONITOR RECORDS
) asking whether they could get a slot at one of our Chess Club nights at The Social while they came over to London for a short run of 5 or 6 dates. Due to my ignorance of their brilliance at the time, I took it upon myself to do a bit of research. In this age of information I took an obvious route - First stop - their myspace. I had been told that their first release was to be a song called "2080" - a song which is rumoured to have got them signed after it was heard only once by the label - backed by the B-side "Sunrise" so that seemed like a good place to start. "2080" is an instant classic, drawing influences from some of the biggest bands of the 80's. The song rumbles along ominously, driven by a repetitive bassline and a distant drumbeat, while singer Chris Keating rants about the perils of the distant future - "It's a new year and I'm glad to be here". The point that defines the song though, arrives when all four band members let the rhythm drop and join together in a rousing chant - the words of which I'll never be truly sure of. Its an exciting moment, with the passionate shouts of the vocals riding high on the twisted synths and occasional tom hits. Needless to say this song, and the more groove heavy but equally-strange-instrumentally track "Sunrise", pointed towards a pretty special live performace.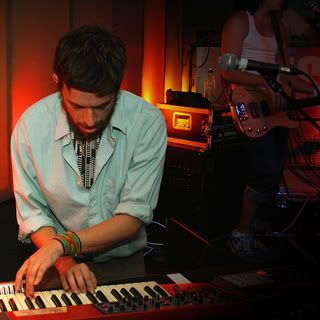 The live show is really where Yeasayer come into their own (see above photos by Max Knight from Yeasayer @ The Social in August). Everything sounds like its been practiced to perfection, and there is a sense of full control and poise that underpins the clashing and crashing of sounds, synths and cymbals. Singer Chris is positioned on the floor rather than the stage due to the lack of space at the Social, and the amount of large instruments Yeasayer have flown over with them from New York. This apparent handicap seems to work in his favour though as he hunches over his keyboard, occasionally leaving it to jump to the stage, bending over double, eyes closed and finger pointing to the sky like some kind of apocalyptic preacher. He stumbles, trips and falls his way through songs without ever losing track. It seems one of the most refreshing things about watching Yeasayer play, is that they appear to be a band of four incredibly talented front men. It doesn't matter that singer Chris is based on the same level as the audience - the rest of the band have the audience captivated, as they rock backwards and forwards trance-like, held together by the rhythms they're thumping out. These rhythms are created by the huge amount of percussion the band play with, every member acting as a percussionist at some point in the set. Hand claps, bottles of rice to shake, real shakers, tambourines, wooden blocks, crickets (a wooden thing that goes "click") and tribal drums are all present. Drummer Luke is the conductor of this percussive onslaught. He plays a mixture of acoustic drums and electronic drums through a drum pad, which he has delayed causing each hit to resound about 4 times. This could easily sound like a mess but it holds together flawlessly, coating the audience in multi-layered rhythms. With tracks like "Final Path" and "No Need To Worry" the band show their full potential for skewed prog-pop. By the end of the set I felt thoroughly drained but completely excited by the innovation and finely tuned talent that Yeasayer display. There is a lot to be learned by new up and coming acts from performances like this.
Make sure you see them when they return to these shores very soon. Heres where they'll be at in November:
7 Brighton Barfly
8 Nottingham Tuned @ Rock City
9 London Barfly
10 Exeter The Hub
11 Cardiff Buffalo Bar (Swn Festival)
12 Liverpool Barfly
13 Manchester Jabez Clegg
14 Edinburgh The Hive
15 Leeds Cockpit
16 Bristol Bar Academy
18 Birmingham Bar Academy
29 London Koko with Electrelane
Their debut album is out early November. Track listing looks like this:
1. Sunrise
2. Wait for the Summer
3. 2080
4. Germs
5. Ah, Weir
6. No Need to Worry
7. Forgiveness
8. Wait for the Wintertime
9. Waves
10. Worms
Album Cover looks like this (WEIIIIIRRRRRRRRDDDD):
Exciting stuff. Time for a resurgence of the 80's influenced NYC pop band. See also
MGMT
,
Vampire Weekend
and
Ra Ra Riot
.
[Jack LB]