London is heaving with acoustic singer-songwriters. There is practically one on every street corner. Even for a massive fan of anything acoustic like myself, it is becoming too much. No matter how many demos I listen to or iTunes previews I test, I always find myself double-clicking on Dylan, Elliott Smith, Ryan Adams, Nick Drake or any other standard acoustic pornography you can think of. It seemed like nothing could ever compete with them. Until I found Justin Hayward-Young.
Justin (aka.
JAY JAY PISTOLET
) is nothing out of the ordinary…he doesn't wear ridiculous clothing, he doesn't have a shady past, he is neither a drug-addict nor alcoholic like the aforementioned artists and to my knowledge, he has never attempted suicide. He is merely a good-looking lad from The Lake District who dropped out of University to play his captivating brand of acoustic storytelling to deathly silent audiences around Britain.
"I really miss that spring in my step, the one that I contracted from the bed in which we slept"
Most songwriters around seem to have forgotten the importance of lyrics. I'm still trying to figure out how on earth sucking on lemons makes you a bitter person…and more importantly how critics can claim these thick as shit lines come from a 'voice of our generation.' Jay Jay doesn't give us too much reality and thank God for that. Its nice to have a bit of escapism for once, like on "Holly" - the B-Side to his new single "We Are Free" - Where he tells the story of a girl he fell in love with who moved to Hollywood, fell into drugs and consequently passed away. It's a gruelling 5:21sec but you feel like you have awakened from a strange dream when it ends, lulled into another sense of consciousness by the strings, occasional syncopated drum beat and Marcus Mumford's backing vocals. I certainly don't believe this can happen when listening to some stupid girl talking about riding around London on her bike all day.
"Whilst I've always dreamed of making it in Hollywood…I knew if she had a second chance then Holly could"
It's a nice change, listening to stories about Hollywood, not Hoxton. Or just listening to coherent stories. You feel like you've finished a good book when you listen to a Jay Jay Pistolet song.
Anyway, I have rambled on far too long. You get the idea…ChessClub like Jay Jay Pistolet. Well, we do, a lot…and that is why we decided to release his debut single! After many drunken meetings with his manager Jay aka. Beans On Toast (yes…same name, hilarious I know) it has finally happened.
November 19th - "We Are Free/Holly 7" is released through
Chess Club Records
(YAY!)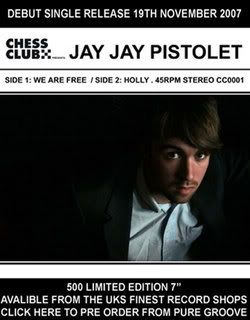 Pre-order it here
He has a big single launch party at The Borderline on November 19th with other exciting new talents (and all previous Chess Club performers)
KING CHARLES
and
ALAN POWNALL
so get your tickets now
BY CLICKING HERE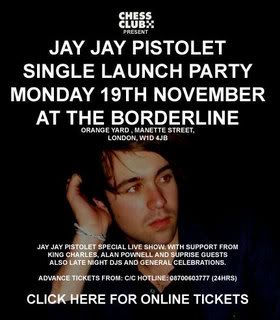 (Max Knight)